When a generic Top Level Domain (gTLD) name (.com, .net, .org, .biz, etc) has been expired for more than 30 days, it is automatically assigned a redemption WHOIS status for another 30 days. During this period the current registrant still maintains the option to renew the domain. A domain may be recovered from redemption at any time during this 30 day period. A fee will apply, which also includes the first year of renewal.

This fee is collected by TPP Wholesale on behalf of the registry. Should a domain not be recovered from redemption, it will be deleted from the registry and become available for new registration.


Note: TPP Wholesale subscription services, such as web hosting or email hosting, don't automatically terminate on domain name expiration. Customers are required to explicitly cancel any services which are no longer needed on a given domain name.

For further information refer to the gTLD lifecycle below.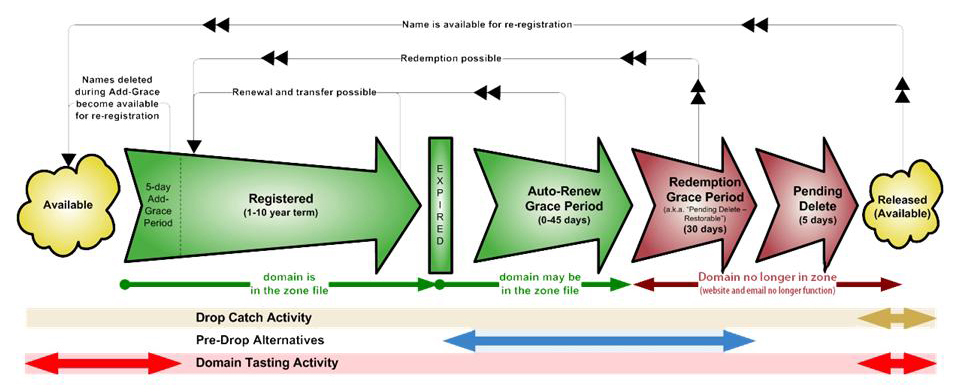 Do not gamble on lapsing your registration to avoid Redemption recovery cost

It is becoming increasingly common for domain names to be back ordered, which means that your expiring domain name could already be scheduled for registration by another person. Domains are commonly being registered the instant they become available by "domain monetisers" (people who make money by buying and selling domains), who then charge the original domain owner an exorbitant price to regain control of the domain.

In light of this increasing trend, customers wishing to keep a domain that has entered the redemption period should submit a redemption request rather than wait for the domain to be deleted. We can't guarantee that the domain won't be registered by another party when it becomes available, and the redemption charges are likely to be much less than the costs asked by a new registrant.


To recover a domain name from redemption, please contact your Reseller. You can retrieve their contact details online by clicking here:

https://www.tppwholesale.com.au/provider/